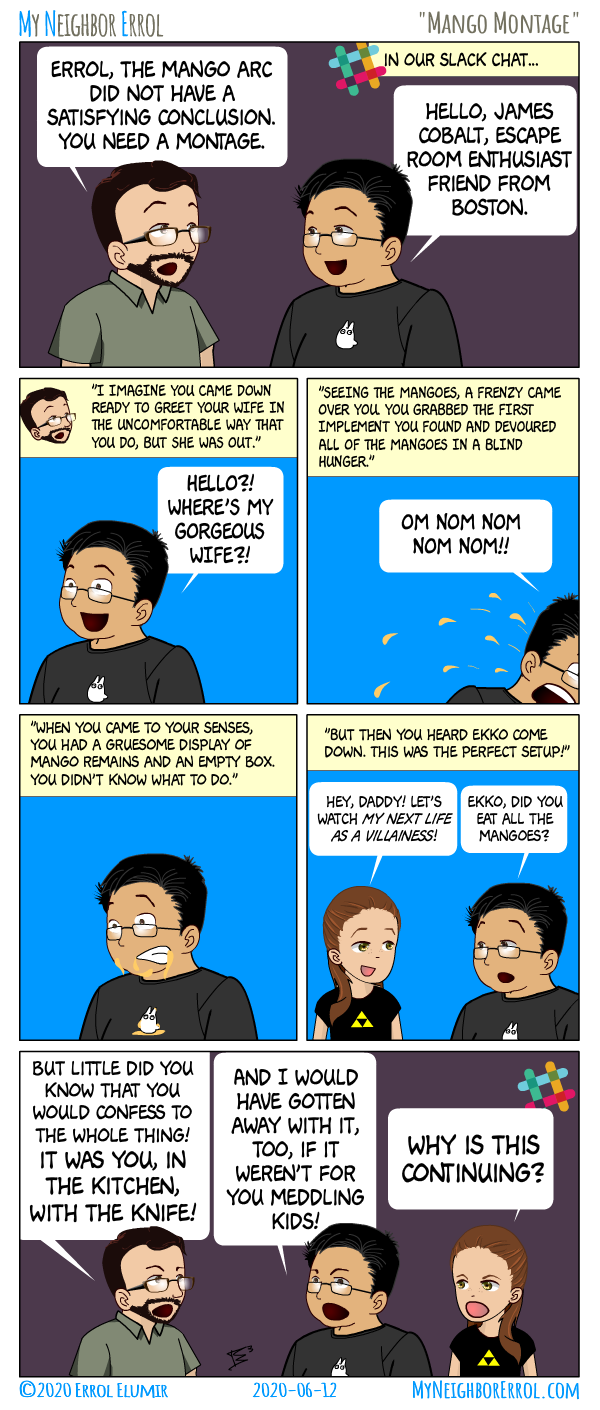 To think this would last as long as it did. James Cobalt's last appearance was back in 2018, when I went to Boston with the family. There was a small bit of discussion in the slack about this. I didn't think this would cause so many comments.
↓ Transcript
Panel 1 -
James Cobalt: Errol, the mango arc did not have a satisfying conclusion. You need a montage.
Errol: Hello, James Cobalt, escape room enthusiast friend from Boston.

Panel 2 - James Cobalt is narrating the scene.
James Cobalt: "I imagine you came down ready to greet your wife in the uncomfortable way that you do, but she was out."
Errol: Hello?! Where's my gorgeous wife?!

Panel 3:
James Cobalt (narrating): "Seeing the mangoes, a frenzy came over you. You grabbed the first implement youf ound and devoured all of the mangoes in a blind hunger."
Errol: OM NOM NOM NOM!!

Panel 4:
James Cobalt (narrating): "When you came to your senses, you had a gruesome display of mango remains and an empty box. You didn't know what to do."
Errol's face is dripping with mango remains.

Panel 5 -
James Cobalt (narrating): "But then you heard Ekko come down. This was the perfect setup!"
Ekko: Hey, Daddy! Let's watch "My Next Life as a Villainess!"
Errol: Ekko, did you eat all the mangoes?

Panel 6:
James Cobalt: But little did you know that you would confess to the whole thing! IT WAS YOU, IN THE KITCHEN, WITH THE KNIFE!
Errol: And I would have gotten away with it, too, if it weren't for you meddling kids!
EKKO: WHY IS THIS CONTINUING?