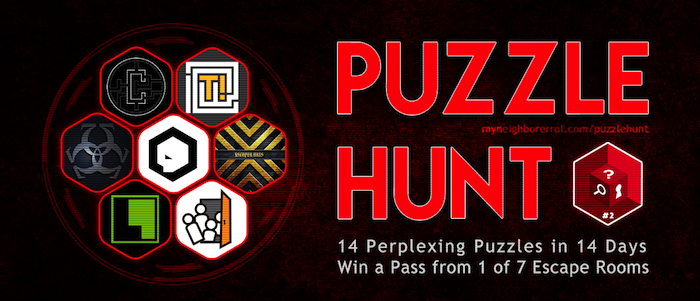 PUZZLE HUNT IS OFFICIALLY OVER!
Welcome to Puzzle Hunt!
EscapeGamesReview.ca (EGR) and EscRoomAddict.com (ERA) are doing a puzzle hunt and hosting it on this site. What does that entail? There are fourteen difficult puzzles which will be released over fourteen days, one puzzle a day. Each puzzle will give you a passcode that will give you access to the next puzzle.
The first person/team that solves and comments on the fourteenth puzzle (and also all the preceding puzzles) gets to choose a prize of their choice! Everyone else who solves the fourteenth puzzle will be put into a draw for the remainder of the prizes.
NOTE: REGISTRATION IS NOW CLOSED!
Thank you so much for participating. Stay tuned to see the solutions for all the puzzles, and people's submitted work!
What are the Prizes?!
The prizes are amazing! There are nine in total from some of the top escape room companies in Toronto!
What Do I Need to Do to Win?
Read and follow the Rules (also has rules on hints)
Give us a Tweet or share on other social media that you're doing this
Register by commenting on this post with a real email address (this will make sure your further comments will not require moderation and you can post "First!")
Comment on EVERY puzzle (with the same email) so we know it's you
Can We Form Teams?
Yes! In fact, I will stress that YOU WILL PROBABLY NOT BE ABLE TO SOLVE THE PUZZLES ON YOUR OWN. Just like an Escape Room, you need a variety of people to solve the puzzles.
Unlike an Escape Room, you don't have an hour time limit, so these puzzles are difficult! They were created by Errol. If you are frustrated by them, do not blame the companies, blame him.
Anyway, on your team, make sure that you have these people:
The Graphic Designer – There will be some simple steganography. Make sure someone is adept at image manipulation programs.
The Programmer – No coding will be involved, but having a background in it will be helpful.
The Musician – Recognizing music will be important. An audio engineer will be super helpful for some steganography.
The Cryptologist – Basic cryptography will be used. If you've never seen a cipher, you're in trouble.
The Google Master – You are encouraged to search for things on the internet. Finding information that is useful is a needed skill.
The Gamer – There will be references to games. Games you probably don't know because Errol's old.
When can I get started?!
NOW!
Here is the first puzzle!
If you still have questions, please contact us!