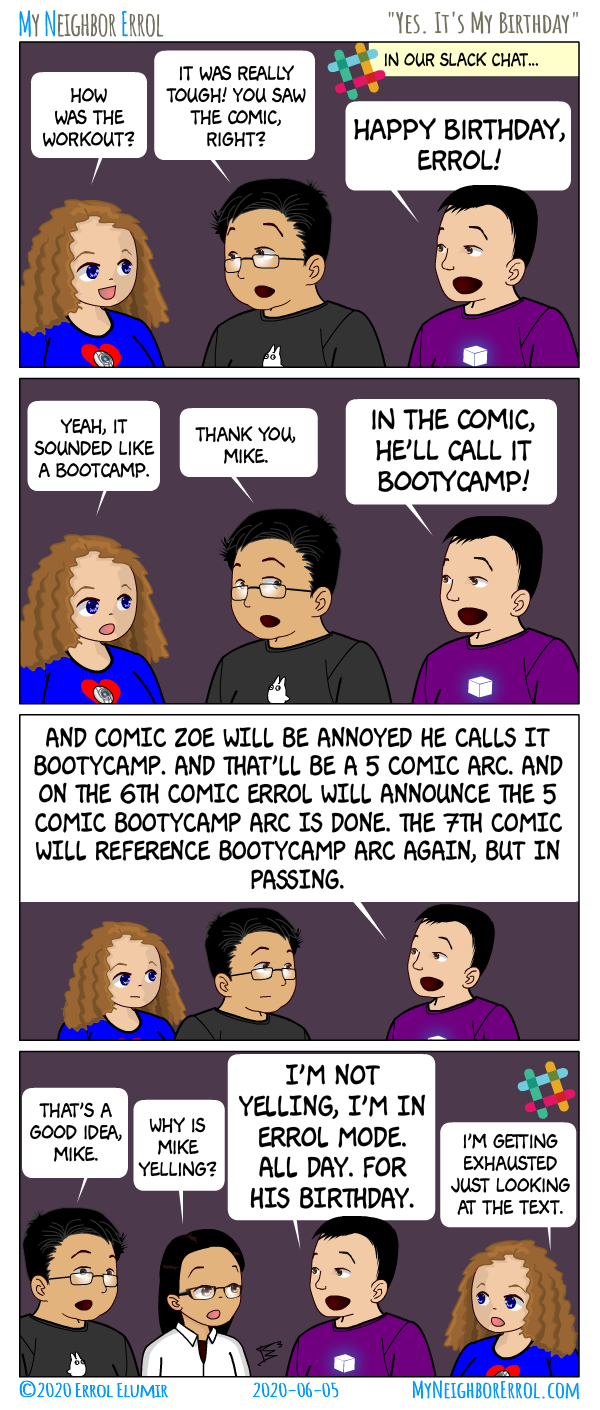 Most of this is verbatim. It's like the comic writes itself! And I realize Mike hasn't been in the comic in a long time!
↓ Transcript
Panel 1 -
Manpans: How was the workout?
Errol: It was really tough! you saw the comic, right?
Mike: HAPPY BIRTHDAY, ERROL!

Panel 2 -
Manpans: Yeah, it sounded like a bootcamp.
Errol: Thank you, Mike.
Mike: IN THE COMIC, HE'LL CALL IT BOOTYCAMP!

Panel 3 -
Mike: AND COMIC ZOE WILL BE ANNOYED HE CALLS IT BOOTYCAMP. AND THAT'LL BE A 5 COMIC ARC. AND ON THE 6TH COMIC ERROL WILL ANNOUNCE THE 5 COMIC BOOTYCAMP ARC IS DONE. THE 7TH COMIC WILL REFERENCE BOOTYCAMP ARC AGAIN, BUT IN PASSING.

Panel 4 -
Errol: That's a good idea, Mike.
Leezet: Why is Mike yelling?
Mike: I'M NOT YELLING, I'M IN ERROL MODE. ALL DAY. FOR THIS BIRTHDAY.
Manpans: I'm getting exhausted just looking at the text.