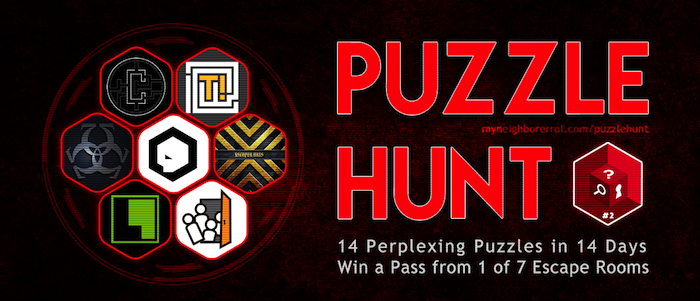 What Are The Rules?
Note: The spirit of the game is that we want the prizes to go to as many teams as possible. We do not want multiple prizes going to one team, since there are a number of prizes, and each prize can accommodate at least four people. The rules are in place to minimize prize hogging as much as possible.
The puzzle hunt is open to everyone, however prize winners are restricted to GTA residents. (If, however, you plan to visit Toronto just to do an Escape Room, that's fine. We just want the prize used!)
Registering to participate requires you to comment on the first puzzle with your email.
In order to be eligible for prizes, contestants must be registered by the 10th puzzle, March 28th, 2015.
If you are a part of a team, only one member needs to register. However, other team members are welcome to comment of course, as long as they mention which team they're on.
Each contestant MUST COMMENT on EVERY puzzle. We will be checking the times of the comments to prevent cheating. Please do not ask your friends to post on the final puzzle just to get a second prize (in fact, they must register by the 10th puzzle).
It does not matter which team member comments, as long as they mention which team they are on.
The first registered contestant to complete AND comment on the fourteenth puzzle (as well as all of the other puzzles) will have their choice of prize. The remaining winners who complete the fourteenth puzzle by the end of the final day will be entered into a draw for the remaining prizes.
While we encourage teamwork for the puzzles, refrain from sharing the answers with rival registrants.
Do not post the answers online or you will be disqualified
Members of ERA and ERG are not eligible to participate in this contest nor can they partake in the prize winnings. Errol's sister is also ineligible to win the prize.
We reserve the right to present or deny any prize at our discretion.
There is no monetary value to the prize. It cannot be exchanged for money.
The contest for prizes will close 8 hours after the 14th puzzle is posted. If no one has solved the 14th puzzle by then, this deadline may be extended.
How Can We Get Hints?
Public hints will be posted at designated times on our twitter feed. We will give you at least five hours after the puzzle posting before publishing a hint.
For specific hints, you can send a direct message via twitter. This will require you to follow either EscRoomAddict or EscGamesReview. If you wish to group DM us, by all means, please do. We will only offer hints to puzzles if they are a day old. PLEASE WAIT 24 HOURS AFTER A PUZZLE IS POSTED BEFORE ASKING US FOR A HINT.
By Puzzle 11 and onwards, hints will no longer be given.
If you do not have twitter to ask for a hint, please use this contact form.