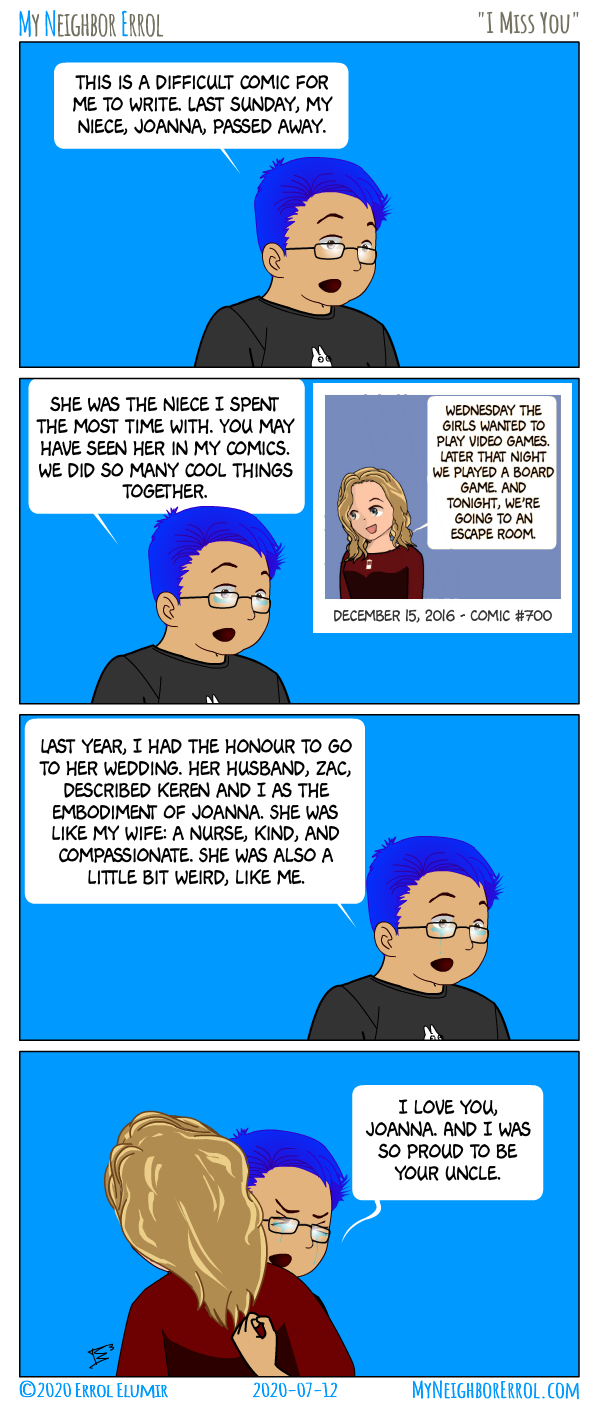 For those of you who are on Facebook, you may have seen me change my FB cover. The last time I communicated with her was on Instagram when she commented on my blue hair. I knew she would have loved it and I wanted to show her in person.
I didn't really show this in the comics, but she had a very close relationship with Keren as well. Keren is really close to all her nieces, and this hit her very hard.
My heart is extremely heavy for her husband, and to her family who is deeply grieved by this. I have a lot of beautiful people in my life and Joanna was at the top of that: she cared so much for so many people. It was always a joy when she came and visited us and I loved her so much.
↓ Transcript
Panel 1 -
Errol: This is a difficult comic for me to write. Last Sunday, my niece, Joanna, passed away.

Panel 2 -
Errol: She was the niece I spent the most time with. You may have seen her in my comics. We did so many cool things together.

Flashback comic to December 15, 2016 - Comic #700
Joanna: Wednesday the girls wanted to play video games. Later that night we played a board game. And tonight, we're going to an escape room.

Panel 3 -
Last year, I had the honour to go to her wedding. Her husband, Zac, described Keren and I as the embodiment of Joanna. She was like my wife: a nurse, kind, and compassionate. She was also a little bit weird, like me.

Panel 4 - Errol is hugging Joanna.
Errol: I love you, Joanna. And I was so proud to be your uncle.